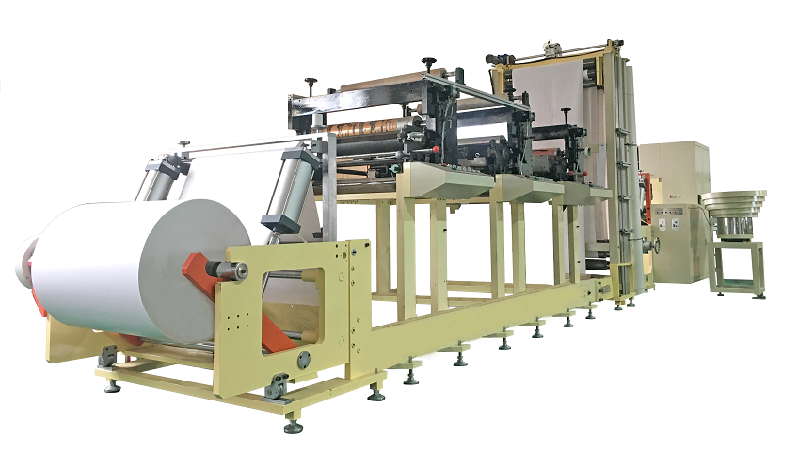 Through two years' hard working, the new design PRINTING AUTOMATIC SLITTING PRODUCTION LINE has been completed in 2019 year.
After improvement, this new machine production line has more functions than before.
First we assemble the PLC, so the operator can work the machine only through touch the screen. It can control the speed of the machine, account the length of the roll, it can control the tension force when operating the machine etc. It will be more easy to operate the machine.
Secondly we adopt the AUTOMATIC PAPER CORE INSERTING DEVICE. The old type need the operator to use the knife to insert the paper core, but after improved, this machine can insert the paper core automatically.
Thirdly this machine adopt the surface rewinding technology which can protect the operator's safety. One the front part of this machine,we assemble one sensor. When the operator of thermal paper slitting machine near the dangerous part, like the blade,round cutter, the sensor can be feel it and then whole machine will be stop automatically. Through this sensor, our thermal paper slitting machine can protect the safety of operator which will be warmly welcome by most of our thermal paper slitting machine buyers.
Last we design one automatic loading and unloading device. For the heavy jumbo paper roll, it is not necessary to use hand to load and unload. this device can load and unload it automatically through the chain.
It is absolutely newly products at least in domestic,it can improve the machine's working efficiency. We are going to apply the patent for some new design.
Our thermal paper slitting machine assemble the web guiding system.This thermal paper slitting machine is ideal machine for slit rewind the printed thermal paper rolls. This roll web guiding system adopt the photocell sensor to check the edge of jumbo rolls, if check some errors and then transfer this error signal into the Controller, after deal with by control unit, then control the serve motor, make the jumbo rolls with errors to rectify the right position.The printed material after been cut by our thermal paper slitting machine, the printed picture will be level too.