The packaging industry is with a huge responsibility. Today's fast-growing thermal paper industry has given huge market prospects for thermal paper slitting and packaging machinery manufacturing. However, to meet the requirements of Chinese current thermal paper enterprise development, the thermal paper slitting, and the packaging industry still have a long way to go.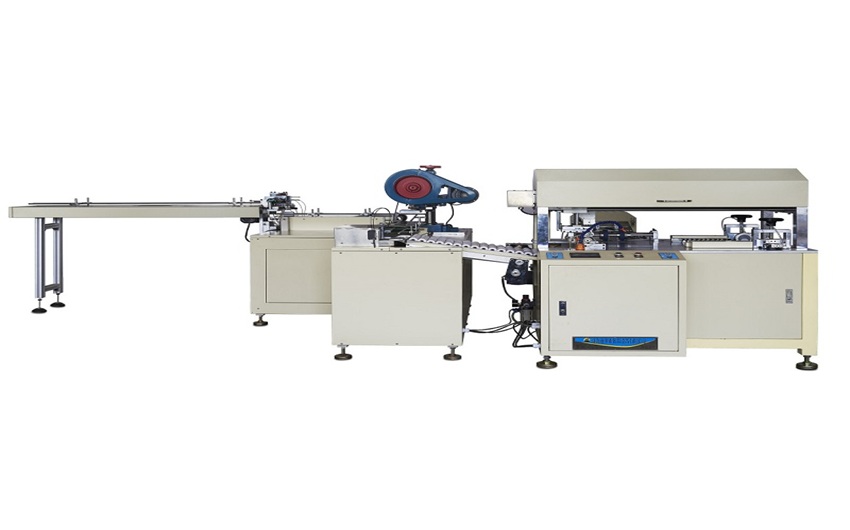 With the prosperity of the national commodity economy and the improvement of people's living standards, the prospects of thermal paper packaging machinery technology are very optimistic. In recent years, the government has increased its supervision for the quality and safety of thermal paper and medicine, and has put forward new requirements for thermal paper production, processing, and packaging technology. A group of thermal paper production enterprises has invested in the technological transformation of packaging equipment and innovation of production technology,which has improved the level of the thermal paper industry and market competitiveness.
Although the level of thermal paper packaging machinery technology in China has improved, China's thermal paper packaging machinery technology is still significantly weaker than in developed countries. There is about 30% of Chinese packaging machinery enterprises have low-level redundant construction.
Mainly based on a single machine, with low technology and low automation, less application in new technologies, new processes and new materials,which can not meet the requirements of Chinese current thermal paper enterprise development.
In order to carry out the technological transformation, some thermal paper enterprises have to spend a lot of money to introduce some complete sets of thermal paper slitting and packaging lines with advanced technology, high efficiency, and high packaging precision, which resulting in a large part of the domestic market share is occupied by foreign brands. This situation not only wastes limited resources such as capital and human resources, but also causes disorderly chaos in the packaging machinery market,and hinders the healthy development of the industry,restricts the upgrading of packaging machinery and the innovation of packaging technology for Chinese small and medium-sized thermal paper enterprises.
In the past eight years, the development of Chinese thermal paper and packaging machinery manufacturing industry has been showing a good development trend and various indicators such as product sales revenue have risen linearly with an average annual growth rate of 18%. Since 2008, despite the impact of the international financial crisis, Chinese thermal paper and packaging Machinery manufacturing industry has maintained a trend of rising against the trend.
However,he also pointed out that China's thermal paper and packaging machinery manufacturing industry still needs to vigorously improve its independent innovation capability to meet the needs of the Chinese fast-growing thermal paper industry.
The development space of thermal paper packaging machinery in China is still broad and the level of thermal paper packaging machinery packaging technology needs to be urgently developed.
How does Zhongya deal with it? Differentiation strategy-innovative products, innovative technologies. Independent innovation has always been an important factor in improving the competitiveness of enterprises. As a pioneer of combination weigher, Zhongya has introduced new products in high speed and networking.
In terms of high speed, the single material can reach 50 packs/min. The high-speed combination is the key equipment of a high-speed packaging line, can meet customer requirements of high speed and high precision; In terms of networking, the network interface is added on the motherboard, which can be directly connected with a computer. The user can directly control the system, and realize the working order directly reaches the machine. It is an exemplary role for the installation of the whole line of the packaging industry.
Also, there are high-speed parallel manipulators for front and rear packaging, which can coordinate with the high speed and accurate arrangement from disorder to order before packaging, further strengthening the packaging production line from labor-intensive industries to advanced technology changes, contributing to the development of the packaging industry.
1. Intelligent workshop: intelligent manufacturing, improving production transparency and manufacturing execution capability. The intelligent workshop is based on the digital platform of intelligent hardware in the Internet of Things. It runs through the five major production factors "people, machine, material, law, and ring" and builds from three dimensions: "production data capture transparency, data presentation visualization, industrial data analysis intelligence". Synchronous data acquisition technology is applied to the whole line of enterprise internal logistics, manufacturing engineering configuration, production, and quality process control, which provides a reliable decision-making basis for the re-adjustment of the planning system.
2. Intelligent warehousing: automatic batching, automatic feeding.Intelligent warehousing is a part of the logistics process. The application of intelligent warehousing,make automated wireless data collection and wireless data update for the data of various operations such as arrival inspection, storage,delivery,transfer,shift,inventory,etc.Which ensure the speed and accuracy of data input in all aspects of warehouse management and ensure that the company has real-time data on inventory in time, to reasonably maintain and control inventory.
3. Intelligent quality control and traceability management: traceability of materials,production links,quality control,etc.By implementing MES(Manufacturing Execution System),manufacturing companies can realize workshop production planning and scheduling, production task inquiry, production process monitoring, intelligent data collection, quality inspection and control,material tracking, raw, and auxiliary material consumption control, workshop evaluation and management, statistics, and analysis, human resources and equipment management functions, etc., thoroughly help companies improve the covert deal of production site management.
Zhongya takes leadership in the multi-head slitting and packaging industry as per his innovative products and core intelligent production technology. In the future, Zhongya will further, expand the scope of product research and development, and be more involved in the various paper and nonmetal detection fields, auxiliary transmission equipment for various automated production lines, and 3D and vision applications.
The section gradually realizes the comprehensive coverage of equipment suppliers in the field of packaging machinery. Zhongya will innovate new products continue to consolidate its leadership role in the packaging industry. Intelligent production and innovative products have given Zhongya a strong vitality, allowing Zhongya to give customers a breakthrough in quality and value, and to establish a stable position for the industry leaders.